Winter Feeding
As the water temperature becomes colder the metabolic rate of a Koi and other pond fish becomes slower. With this slower metabolic rate digestion slows and the fish cannot process higher protein summer foods in their gut.
It is important for health and immunity to continue to feed the fish in colder water but the feed needs to change to a low protein Winter Wheatgerm diet. As a general rule wheatgerm foods can be fed down to a pond water temperature of around 6°c.
---
Featured Products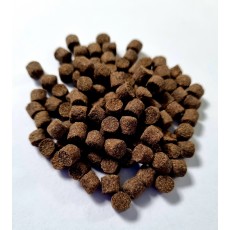 Migotona Sinking Koi Food
Migotona Sinking Koi Food 6mm Migotona - Amazing Koi Food is our own Koi Logic brand that has been developed in order to increase the digestibility of the food in Koi. For Koi to grow and develop from feeding a high quality feed is required with some important factors taken in to account. The starch in Migotona Sinking Food is pre-gelatinised and so it can be optimally used as an energy...
Was £31.99
Now from £21.99
---
---
---
---
---
---