About Us
Established in 1994 in Upminster, Essex, Koi Logic is now one of the UK's premier Koi centres.

Koi Logic was started by a father and son team, Doug and James Hanford. Doug brings to Koi Logic his fifty years of personal experiences keeping Koi. As a former Vice Chairman and Medication Officer for the Essex section of the British Koi Keepers Society, Doug has gained years of knowledge of Koi from one of the most active sections within the British Koi Keepers Society. James brings to Koi Logic his childhood years keeping and showing Koi guided by Doug. James has also worked on Trout, Salmon and other Koi Farms and later went on to Sparsholt College, Hampshire, where he gained a ONC in Aquatics and Ornamental Fish Management; this gives James valuable experience in water chemistry, Koi health and all aspects of keeping Koi successfully.
We have stocked Koi from the Ogata Koi Farm in Fukuoka, Japan since establishment and became the sole UK agent for the Ogata Koi Farm in 2008. We visit the farm in Japan 3 times a year to hand select the Koi to bring back to the UK for sale to both retail and trade customers.
You can be rest assured that all of the Koi and the Koi and Pond products we sell are the best quality and we have a very wide range covering the best brands of Koi food, air pumps and accessories, pond pumps. We will always be happy to give you the best Koi care advice and with years of knowledge, we can give you great direction and inspiration on your pond construction and pond maintenance requirements.
The original Koi Logic shop in Cranham, Upminster in 1995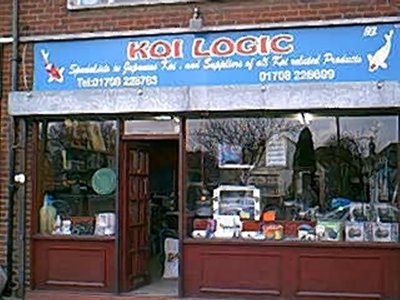 ---
A selection of our ponds at our Koi centre in Upminster, 2014